To some people, wine is a passion, and they are always seeking out the greatest vintages and the latest finds, to be sipped and savored with friends. For others, wine is a simple pleasure to be enjoyed with a fine meal. Yet others regard wine as an investment, and buy it not to savor the wine itself, but to enjoy the profits they can reap. Here are some tips on turning the wine you buy into a useful investment.
Historical performance of wine investments
Wine fads come and go, but there are certain wines which tend to hold and increase their value, regardless of other trends. These wines are typically considered better investments. At the top of the stack, are those considered "blue chip" wines. Like blue chip stocks, they may not make great returns every year, but they are viewed as solid investments.
The top blue chip investment grade wines are those from the great chateaux in Bordeaux. These wines can be quite expensive, so a significant investment can be required. Bordeaux wines also have an unusual system of "en primeur" sales, where wines are sold while still in the barrel, before they are even bottled.
Top quality wines from well known makers in other regions can be good investments, too. You could consider wines from Burgundy, Spain, Germany, or even Australia. Often, these wines can appreciate significantly in value, though the market for these has a greater variability, as wine trends come and go.
Quality wines do tend to rise in value over the years, as the vintage matures. This is partly due to the fact that red wines usually improve with age. It's also partly due to the scarcity factor. As more bottles of a particular vintage are purchased and consumed, there is less left on the market for other buyers.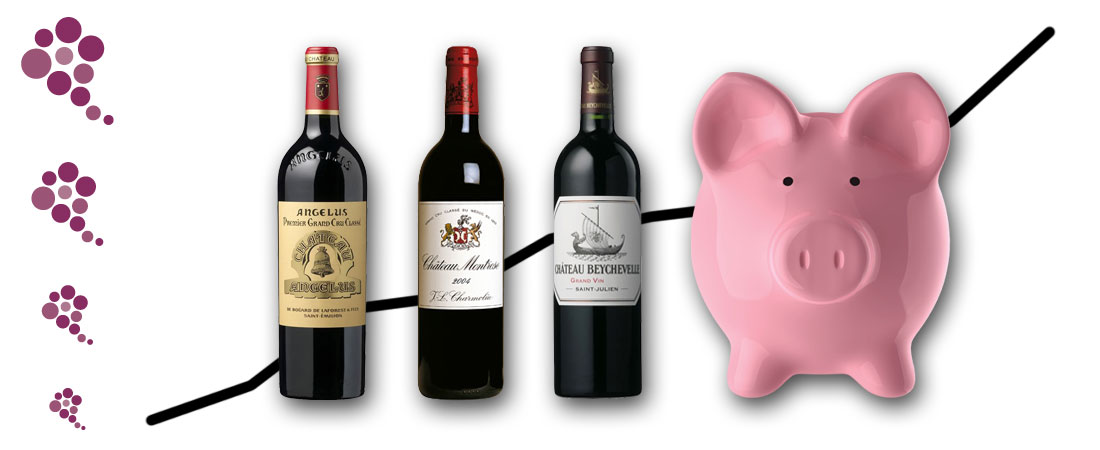 How to invest in wine
Unlike investing in the stock market, you do not need to go through a broker. There is also far less regulation of the wine market than there is of stocks or bonds, so you need to be careful and do your own due diligence.
You can purchase wine yourself, from a wine merchant who carries the wines you are looking for. Make sure you are dealing with an established, reputable business. These people have a lot of knowledge about wine, and may be able to give you some good advice on what to buy. Always be sure to do your own research, however, to make sure that what they are recommending really looks like a good investment for you.
You can also purchase fine wines from auction houses. There are also a number of websites that specialize in buying and selling wines, which can provide information on price history for different vintages.
Combining a hobby with an investment
Many people find this combination to be ideal. If you enjoy wine, then researching what you want to buy can be fun, rather than a chore. If you buy a case of a fine wine, you may be able to make enough from the investment, to pay for you to drink some of the bottles yourself. When you get to drink top quality wines for free, that is a winning outcome.
How do you make a bottle of red wine become a top-shelf investment? There's something really important you should know about wine – some bottles, particularly the old ones, are extremely valuable. The beverage is a simple product made from the fermentation of squashed grapes. However, its quality is greatly dependant on climate, soil, genetics, and most importantly, winemaker skill.
With every year that goes by, the climate chances and the final product varies. As the vines age and yield less, the wine becomes more intense, and thus more valuable. Never invest in wine with the hope of making millions. Just like any other type of investment, buying fine wine is risky. Know the market first, find out as much as you can about the industry, and ask for assistance.
Start small, purchase wines with great chances of becoming valuable, and try not to take unnecessary risks. Be patient and in will be able to turn a bottle of red into a top-shelf investment.